Edgehill is a 62+ luxurious continuing care retirement community (CCRC) located in Stamford, CT.
You are acclimated to life's finer things, and your retirement lifestyle should be no different. At Edgehill, you will live in the comfortable and cultivated style to which you are accustomed, but without day-to-day worries, such as home maintenance.
With our concierge services and world-class amenities you would find in the finest hotels or resorts across the globe, you will retire in your style—carefree, active and living your life to its fullest. Edgehill is where life meets style.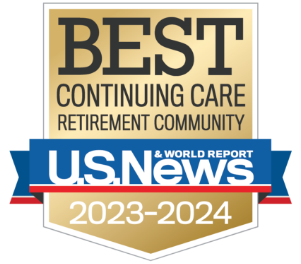 Edgehill is thrilled to announce that we have been uniquely honored with four distinct awards from the U.S. News & World Report, including Best CCRC. These distinctions are awarded based on our exceptional lifestyle, wealth of services, gourmet dining and resort-like amenities. With our impeccable service and amenities, you can trust that Edgehill sets the standard for senior living.